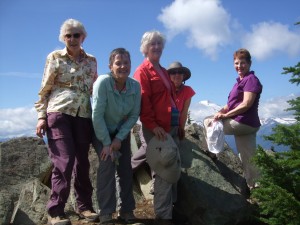 Exercise Screening and Resource Website:    Are you ready to push yourself?   One of our members shared this web resource with useful information about interpreting physical warning signs and what physical activities are right for your body?
Click here for the site ->  Exercise Screening and Resource Website.
---
Trail Safety TIps
Go out with others, or a large dog. Don't venture out alone in places that are remote or rarely traveled. If you don't know anyone, you can find others through local hiking and walking programs.
Tell someone where you are going and when you expect to be back. Stick with your planned route. Carry a cell phone.
Don't walk or hike when it's dark.
Don't head out with headphones on; you may not hear an attacker approaching. Even it you turn down the volume, an attacker still could see you as a target.
 If something doesn't feel right, leave. Trust your instincts.
 Pepper spray can fend off attackers, but don't rely on it instead of your common sense. Make sure you know how to use it, so it's not turned on you. Replace canisters each year.
Source: Adapted fromThe Bellingham Herald, 3/7/08
Carry the TEN ESSENTIALS ->  The 10 Essentials

Be prepared for a change in the weather! 
Prevent Tick Bites:
Wear long pants and a long-sleeved shirt. Tuck your pant legs into socks or boots and shirt into pants. This can help keep ticks on the outside of your clothing where they can be more easily spotted and removed.
Wear light-colored, tightly woven clothing which will allow the dark tick to be seen more easily. The tight weave makes it harder for the tick to attach itself.
Use tick repellent when necessary, and carefully follow instructions on the label. Products containing DEET or permethrin are very effective in repelling ticks. Take special care when using repellents on children.
Check yourself, your children and pets thoroughly for ticks. Carefully inspect areas around the head, neck and ears. Look for what may appear like a new freckle or speck of dirt.
More information about ticks.
Healthy Eating Tip:  
Bring more water than you think you will need and some good food to share.
 On the subject of good energy food, here is Harriet's favorite recipe for hiking cookies.  ->  [download id="9″]
Pesky Deer Tip:
 Another recipe for you – a safe repellent (spray on your plants, not your body)  It will discourage the hungry deer.  Thanks to Kay [download id="8″]
Gato Verde Adventure – A message from Ruth Shuster:
Several of you have asked about the charter sailing business my son Todd runs out of the Fairhaven ferry terminal. Todd's business, Gato Verde Adventure Sailing, owns a 42 foot catamaran which is available for fully crewed charters, two hours to seven days. It can be purely a pleasure outing or an educational one, depending on your interests. You may want to consider this as a fun time for with friends or when guests come to visit. It is great fun with children, very safe and stable, since it is a catamaran (no heeling). Sunset cruises are often available on the spur of the moment. It is a spectacular way to get out to the San Juan Islands.  http://www.gatoverde.com/