Summer 2021 Hiking

Recognizing the situation with Covid-19 is evolving we are proposing the use of a simple sign-up sheet to facilitate finding others to hike with, in a flexible manner.  We have created a shared google sign up sheet where you can sign up to hike with others on a chosen Tuesday.  The approach assumes a group size of up to six people will sign up for an easy, moderate or difficult hike.  Please consult the "Directions" tab in the google sheet for more detailed instructions on how-to sign up for hikes.
Here is a link to get to Summer 2021 Hiking Sign-Up sheet: https://tinyurl.com/9rjvnh4w
** THE INFORMATION BELOW IS TEMPORARILY NOT ACTIVE**
A Hiking We Will Go!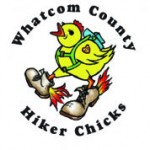 The Hiking Group (aka Hiker Chicks) schedules hikes in the nearby high country on Tuesdays from April/May through October. During the winter months we hike when the weather is accommodating and there are leaders available.  The group welcomes all levels of hikers ready to exercise and socialize. No one is left behind and so far no one has been lost. During the spring and summer hiking season there will be two hikes each week, a Rambler group hike and a Strider group hike.  The group names are indicative of what kind of hike each will be.  During the winter months there is only one group.  A good chance to hike with everyone.
This is how it works. We are using Google Sheets to sign up for leading/hiking.  We began this process last year and so far it's been working very well.  See below for a document with detailed instructions on how to use Google Sheets.

With two groups and two hikes each week there will be more choices for everyone.  You can pick your hike each week based on how you are feeling, or which hike might be your favorite.  This does, however, mean we need a leader for each group every week.  If we have leaders we will have hikes!  If you haven't led a hike, but would like to give it a try, please ask someone to co-lead with you.

LEADERS: We need hikers to sign up to lead hikes on google sheets.  The trails have been entered for each week.  Pick the date and trail you want to lead, and enter your name right below the trail name.  On the row below your name you can also enter your phone number if you choose to.

HIKERS: By the Sunday night prior to a hike, sign up on google sheets.  On Monday, the day before the hike, the leader will email final details about the hike to everyone who has signed up.     The number of participants might be limited due to trail logistics or National Park Service regulations.
More on the two groups…. and remember you can pick either hike each week.

The Striders:
will often go further on a given hike, with greater elevations gains

Will often leave earlier in the morning

Will sometimes get back later

Will ask that anyone who needs to get back earlier, not choose the Strider hike

Will park at Bloedel Donovan Park when heading to Mt Baker

Will expect hikers to have the stamina to hike longer, further, and higher
The Ramblers:
Will possibly be hiking more slowly, enjoying things along the way, with the destination a goal, but not the focus

Will choose hikes that are challenging, but will not always be the most strenuous

Will allow for some hikers to go further on a particular hike, while others might want to linger or turn around earlier.  As long as you have at least one other person with you that is fine.

Will organize carpools to accommodate for hiker preferences.
Both the Ramblers and the Striders agree that we:
Will expect people to be able to know their own capabilities and select the appropriate hike each week.

Will expect that hikers not go off on their own during a hike.

Will expect everyone to have at a minimum the 10 essentials, preferably some things beyond the 10.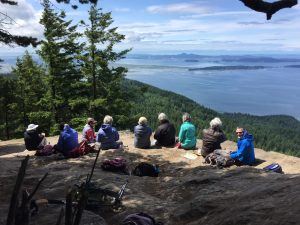 Hikers usually meet at the carpool departure location at 8:15 AM and leave at 8:30 AM. Departure times may vary and they will be set by the leader. The leader may advise the group about the return time, and she will notify all participants if there is a change of plans due to weather or trail conditions.
---
Carpool Departure Points: 
Departure points will be specified in Leader email.  Here are the typical meeting places.
Bloedel Donovan Parking Lot off of Electric Ave

Safeway parking lot off of Mt. Baker Highway in the Sunset Shopping Center

I-5 Fairhaven Exit 250, Park & Ride lot on the west side of the freeway.

Carpool Expense: Riders should give their driver $10.00 to cover expenses for the longer destinations and $5 for the closer trail heads. 
Hike Details:   The Washington Trails Association is a good resource if you would like a description of a hiking trail. –>  http://www.wta.org/go-hiking/hikes
---
All Hikers: Please review the tips below including the Ten Essentials for hikers.  Additional information and resources are on the Tips Page . 
TIPS FOR HIKER CHICKS 
Carry the 10 Essentials -> [download id="6″]
Review the information about preventing

tick bites

.
Bring more water than you think you might drink.
Arrive at the departure point at the designated time.
Contact the leader if you are running late or unable to hike after making a reservation.
Bring cash to pay your driver. If you ride up with one person and back with another split the cash.
Along the trail stay with one or two other hikers to help each other.
Tell the leader or your hiking buddies if you have a health condition that might need attention.
Read about the hike so that you will understand the challenge.
Three easy and inexpensive references that Hiker Chicks have found useful are  Day Hiking North Cascades by Craig Romano, Hiking Whatcom County by Ken Wilcox and Don't Waste Your Time in the North Cascades by Kathy and Craig Copeland.
Hiking Memories:  With our great appreciation to hiking friends who've shared pictures with the group; below are only a few of the many good pictures of our hiking days.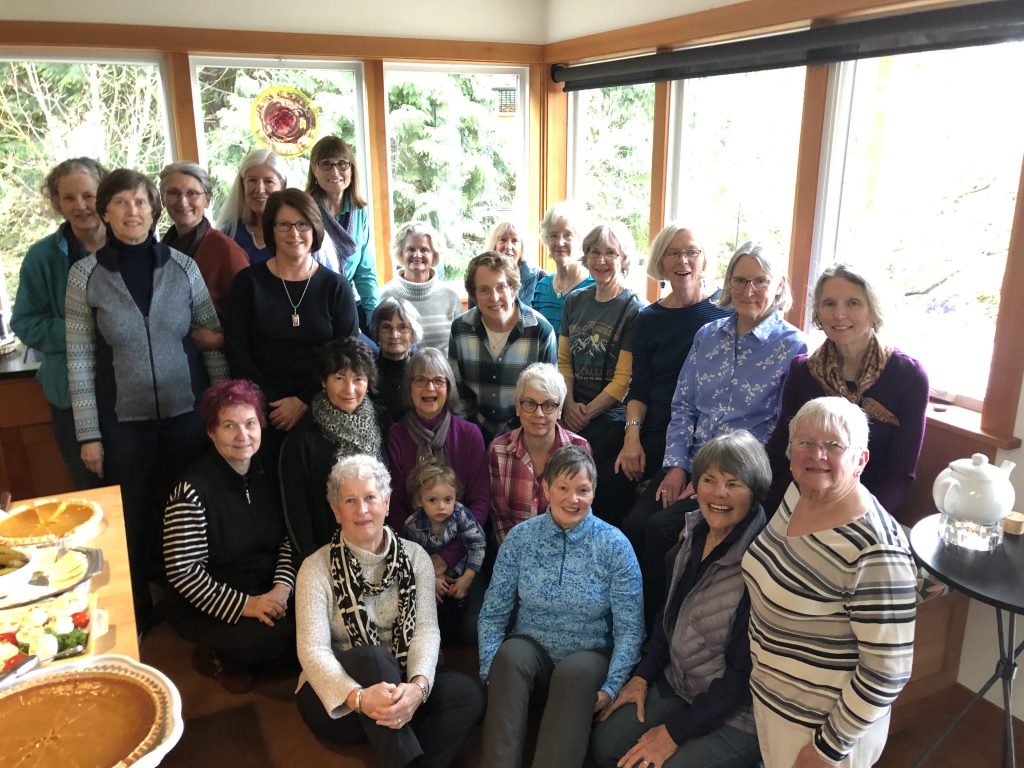 Hikers' Potluck Lunch and Meeting – November 15, 2019           Photo by Elaine Cress
---