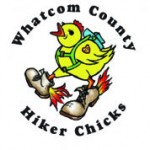 Fun & Games and More Hiking
Our hiking group has enjoyed summer retreats with plenty of hiking and social time.  The hikes are generally more challenging – one member commented that 'boot camp' might be a more apt term than 'retreat'.  Descriptions & pictures of recent retreats are found on the following pages:
We also have wonderful memories of retreats at Rainier National Park in 2011 (group pictured at the top of the page), Olympic National Park in 2010.  Kudos to our members who have organized these hiking retreats and to Karen C. for designing our Hiker Chicks Patch.